I've been enchanted by the sound of words since the year dot. 

And I've loved discovering how tone of voice and words can impact an audience, since playing Marge (aged 14) in an Alan Ayckbourn comedy at school. Hearing the laugher spilling out from the dark auditorium was such a thrill.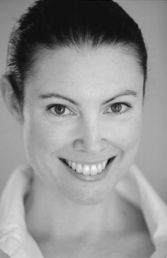 After 3 years at the Arts Ed Drama School in London, I began life as professional performer.
As an actress, appearing in stage classics like Chekov's Three Sisters as well as in independent films. And as a voiceover artist, working with brands such as Disney, Amex, Fortnum and Mason, Microsoft and Hilton Hotels.

My next step was to direct commercial audio productions. As a director I've been responsible for voice selection — choosing voices to match brand or creative intent, coaching voice artists during recording sessions and working with sound engineers during mixing — to make sure the final production is spot on. 

My love of film took me to courses in screen writing and creative writing. And to get a better understanding of the psychology behind spoken and written communication I qualified as a Neuro Linguistic Programming practitioner — under the guidance of NLP co-founder Dr Richard Bandler.

Over the years my passion for, and knowledge of voice and writing has also led me to work with some of the world's best-known businesses — developing approaches to help their people communicate more effectively with customers and colleagues.

What next? Working with you I hope.

Some of the companies I've voiced or written for:

AOL   ASDA   Aviva   bmi   British Airways   British Gas   Britvic   Currys

Direct Line   Disney  ebookers   Freeview   Hilton Hotels   Lastminute.com   Marks & Spencer  Microsoft  Morrisons  npower   Sky  Tesco Personal Finance   Trailfinders   Virgin Atlantic   Virgin Holidays

© Janina Heron 2018, all rights reserved. All trademarks are recognised.